You like to move it, move it!
Why are you buying?
Congratulations! You have made the decision to buy a property - but what, where, and why?
As with buying anything, anywhere, abroad, or at home you must ask yourself why you are buying it. From this one question lots of others follow to help you narrow down what you are looking for.
Talking to clients day in, day out about why they want to buy in Portugal there are some reasons which keep coming up time and time again: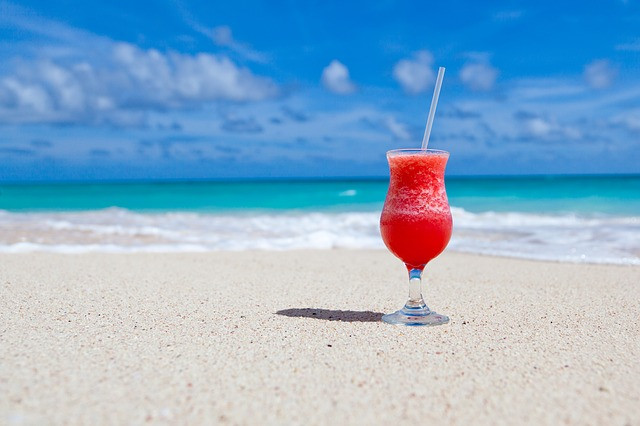 Our pension with go further in Portugal
Now the kids have left home we want a new adventure
I don't want to look back and regret not making the move
What's your reason for choosing to buy over here? What would you add to the list? If you are looking for some inspiration read on and see what questions we like to ask to help us help you find your dream property. 

How will you use it? What must it have?
This is crucial to ensure that you really enjoy your property. What will you do with it? How will you use it?
Are you looking for a property where you can spend long weekends a couple of times a month? Or are you looking for a property where you and extended family and friends can relax in for three weeks over the summer? Maybe you are looking for an investment property or a relocation option, maybe somewhere to enjoy your holidays to start with and then eventually retire to?
Most importantly - be honest. If you really don't think you'll be able to nip down for weekends, then you could save money by looking at properties further away from the airport. If you don't want other people using it and don't need the money which you can make from renting it out, you don't need to concern yourself with rental or investment potential.
What MUST your Portuguese home have?
We all have them - the deal-breakers, the must haves, the I can not live without this. What is not up for discussion, what will you not compromise on?
How many bedrooms or bathrooms do you need? Is a pool essential or would you prefer to be able to walk to the local beach and swim in the sea? Are you passionate about having outdoor space? Do you want to be able to walk to your local golf course? What would make your Portugal property perfect for you?
What are your turn-offs?
It's nice to be positive, but focusing on what we can't stand can be quite liberating as well!
Would you hate queueing for a hire car every time you land at the airport and then spend 30 to 40 minutes driving to your property? Are you happy to spend the first few days weeding the garden, painting the walls or cleaning the pool? Do you hate noisy neighbours - would you find the presence of holidaymakers on your doorstep all summer a little irksome? Now is the time to say it loud and clear. You want to love this home, so spell out what will stop that happening.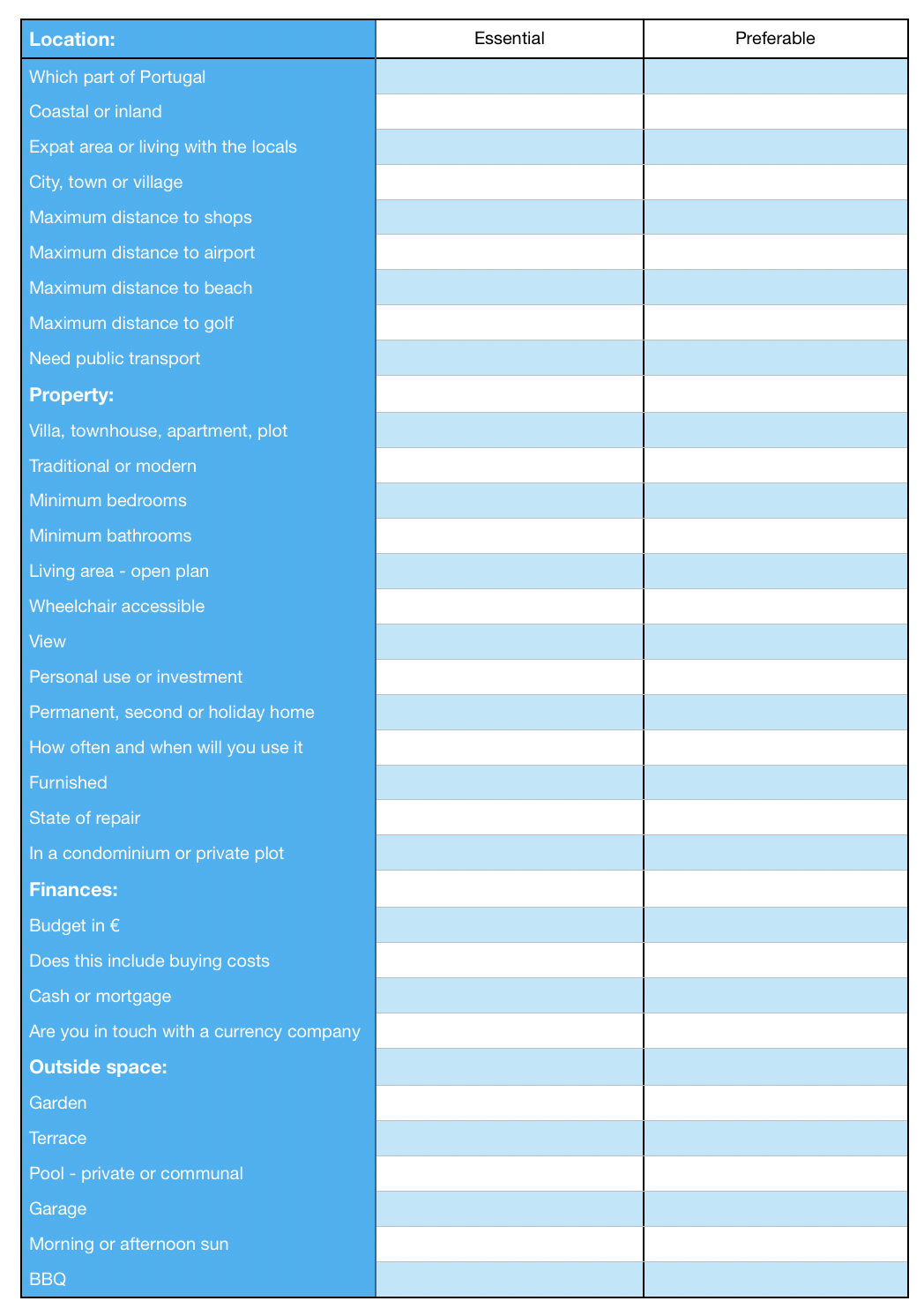 Other questions to ask:
Do you want somewhere for regular holidays?
Do you want somewhere as an investment to pass on to the kids?
Maybe you will need to cover your costs by renting it out too?
Do you want a rural or urban location?
Do you buy a new build or an older more traditional property?
Do you want to be amongst expats or mainly locals?
How far do you want to be from an airport?
If you are relocating full time with a family then schooling options will need to be investigated early on (and places applied for in advance).

If you are banking on renting out your property you will need to consider the ideal size and type of property, the sort of features that rentals might expect (outside space, use of a pool etc) as well as popular locations.
Do you want a property in a condominium with shared facilities?
Do you want to be able to walk to the shops?
Do you need a mortgage?
Is this an investment or are you looking for your forever home?
When do you want to have purchased by?
Would you like a sea or country view?
Would you like to be part of a lively community or would you prefer a more secluded retreat?
And that's just for starters! When you get going we're sure that you will have loads more questions to ask yourself. Have a look at our property checklist above to help you get started and organise your thoughts.